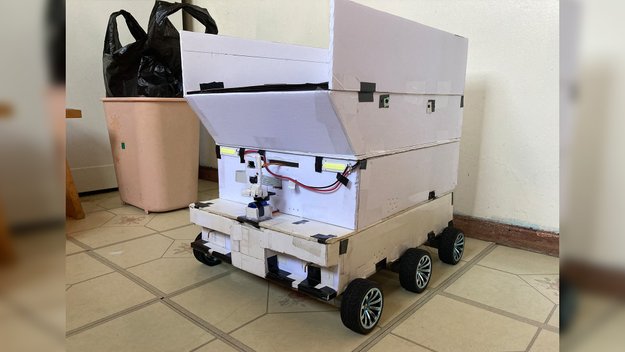 ---
Although cleaning up the apartment is often done in a matter of minutes, it sometimes feels like a never-ending act. A resourceful Raspberry Pi hobbyist has now revolutionized garbage disposal: he quickly assembled his own small garbage truck.
Ingenious Raspberry Pi project: Garbage truck cleans up the apartment
Each of us was definitely too lazy to throw our empty chip bag in the garbage or our drunk plastic bottle in the deposit bag. Apparently, the Raspberry Pi enthusiast Jason Luk was faced with this problem and therefore decided to develop a solution. His idea: a self-driving garbage truck that automatically drives the rubbish inserted above to the garbage can and deposits it there.
The result of his work is impressive, as the hobbyist's YouTube video proves:
Raspberry Pi becomes a garbage truck: This is how the vehicle works
Jason Luk provides various videos on his YouTube channel, on which one can follow the progress of the vehicle very well. The website Tom's Hardware summarizes how the Raspberry Pi garbage truck works.
Thanks to the new Raspberry Pis, hobbyists have even more freedom for creative ideas:
The complete path finding works autonomously. The user does not have to control the robot with a controller. In order to be able to orient yourself, a camera is installed on the front, which constantly monitors the surroundings. The garbage truck can be activated via the smartphone.
As soon as the corresponding command has been given, the garbage truck drives itself to the corresponding waste paper basket and then dumps the garbage. After this process is completed, the garbage truck drives independently to a charging station and then waits for its next use.
If you want to put together such a robot yourself, you will find part of Jason Luks code for the project on GitHub.